Payroll & Taxes
Paragon's payroll and tax filing services help you say goodbye to the major headaches of running your business. Hire new employees, update records, and submit payroll in seconds from your computer, tablet, or smart device. If you get stuck, Paragon's enthusiastic client support is just a phone call away.
Time & Labor
Paragon offers a modular and customizable workforce management solution to help you finally tackle that task with ease and efficiency. Using a web- and app-based platform, Paragon clients may finally enjoy total control over their workforce with true workforce management functionality at their fingertips. Now that's managing smarter, not harder.
Human Capital Management
Your employees are the backbone of your business. They're one of your largest investments and are the make-or-break element to your success – but they're also one of your largest obligations. How does your business maximize the potential of your workforce with clarity and efficiency?
Let Paragon help you meet (and tackle) this challenge. Our comprehensive Human Capital Management solutions are designed to reduce obligatory burdens, strengthen relationships, and empower your people.
Compliance
Compliance comes in all shapes and sizes depending on your business.
Some businesses must comply with union rules or prevailing wage laws to effectively bid and win business. While this business can be very profitable, the mandatory reporting requirements are quite complex. Paragon removes the red tape and reduces keystrokes by delivering compliance reports as soon as payroll is processed ensuring accurate and timely reporting.
Federal, state and local regulatory agencies all have some aspect of oversight of employee relations. Understanding and adhering to these layered policies can be burdensome; but missing one can be costly. More and more localities and states are implementing employee-friendly regulations that make payroll just that much harder.
Navigating court-ordered garnishments can be one of the most confusing tasks for a payroll team. With nation-wide experience, Paragon's expert client support team will help you avoid the headache that comes along with calculating and remitting garnishment payments.
Show More ...
Solutions Built to Handle Your Challenges
We love complexity.
More specifically, we love solving complexity. Payroll is a naturally cumbersome animal that requires a customized solution for growing, forward-thinking companies. That's where Paragon comes in.
Beware "one-size-fits-all" solutions.
In the world of payroll, there's no such thing as an easy fix. We can, however, design a custom solution to fit your company's exacting requirements to reduce confusion, mismanagement, and pandemonium.
Compliance Headaches?
Bring It On.
Why should government contract compliance standards throw a wrench in your payroll process?
Hint: it shouldn't.
Whether you work with prevailing wage, union, fringes or multiple states, we help clients manage and report on the labor and employment aspects of federal and state government contracts including employment obligations like affirmative action and E-Verify; and wage and bona fide fringe benefit reporting for the Service Contracts Act (SCA) and Davis-Bacon Act.
Long Term Care / Senior Care / Skilled Nursing
Is operating your 24x7 skilled nursing facility keeping you up 24x7?
We know that quality people make all the difference in senior care. We also know that CMS requires you to quantify that care via the quarterly PBJ (Payroll-Based Journal) submission. Paragon makes the quantification easy by automatically collecting and classifying your employee data at the source and includes the complicated stuff like the midnight shift split and agency/contractor hours – allowing you to focus on the quality.
Take Paragon Payroll for a Test Drive
Talk directly with a Paragon Payroll solutions engineer to describe your exact payroll, HR, and reporting needs. We'll put together a customized solution demo to show you exactly how everything can work together.
Your customized solution demo will show your organization how to integrate Paragon Payroll to better serve your payroll, HR, and reporting requirements.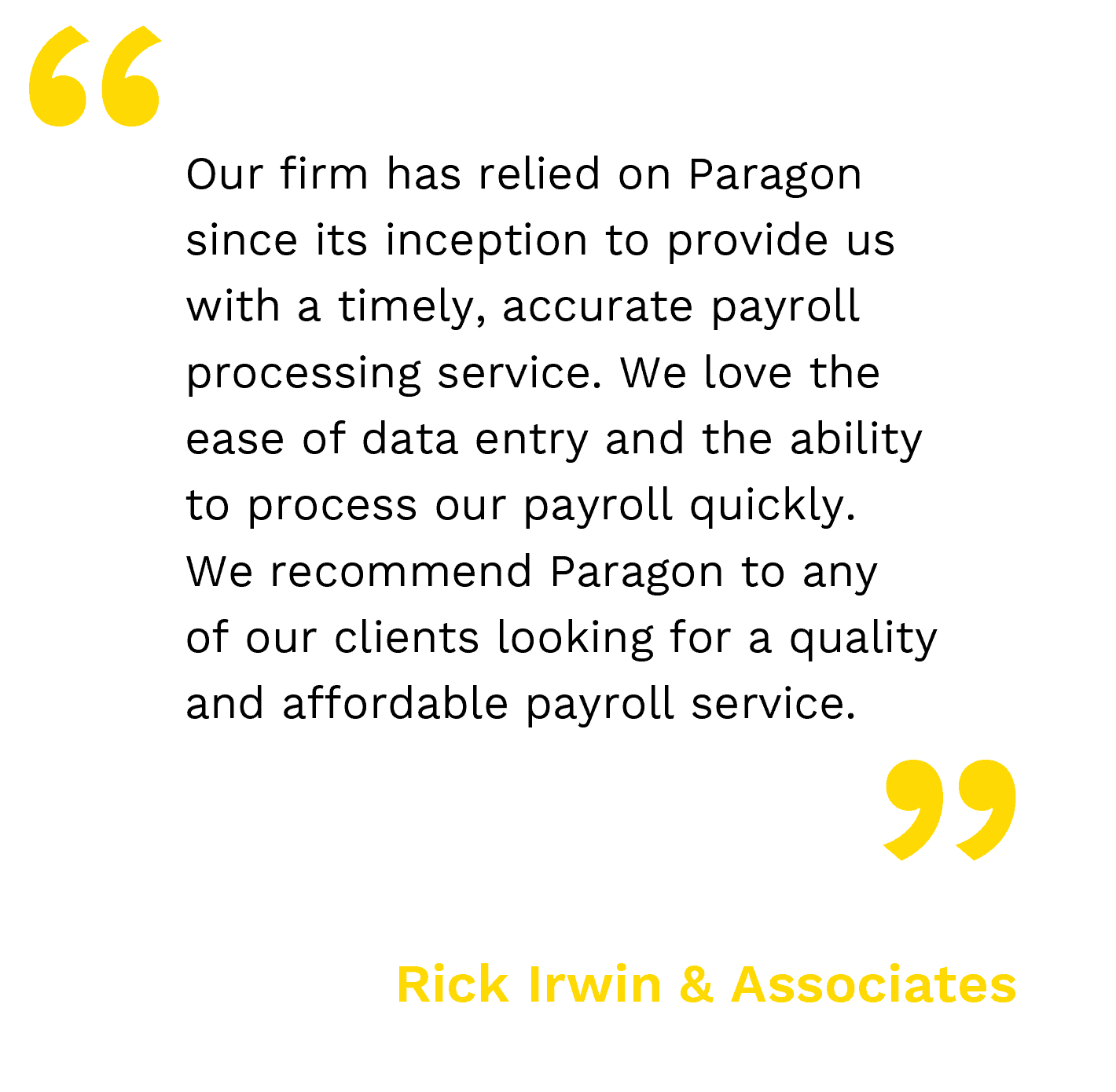 Talk To Us
---
866.444.4615
info@paragonpayroll.com
Paragon Payroll
---
8201 Mid Cities Blvd
Suite 300
North Richland Hills, TX 76182
---
P: 866-444-4615
F: 866-446-7222
---